Astrology & Psychic Events
PSYCHIC DEVELOPMENT WORKSHOP, SURFER'S PARADISE, SEPTEMBER 14,2019
Learn how to boost your psychic abilities through personal experience at this afternoon workshop – at the Pisces Full Moon in September! The Pisces Full Moon makes it a promising time to truly experience your own innate abilities.
I will guide you through ways to identify your psychic abilities and to maximise your psychic potential. You will identify the difference between psychic and mediumship abilities; learn how to expand your mind; and know how to enhance your senses and to gain increasing clarity and psychic depth.
This all-afternoon workshop will be at the gorgeous Chameleon New Age Salon, in Surfer's Paradise, Queensland. There will be a limited number of places so everyone receives individual attention. For tickets, $110, you'll find a link on here: https://www.eventbrite.com.au/e/psychic-development-with-patsy-bennett-tickets-64349325565
Rebalance Retreat, Byron Bay, June
2019
"I'm looking forward to providing readings and to presenting a talk at the Rebalance Retreat at Elements in Byron Bay in June 2019….More info to come, Patsy x"
Mind Body Spirit Festival, Brisbane, March 8, 2019
Patsy gave a talk titled "Soul Awakening: The Path to Happiness" at the Brisbane Convention and Exhibition Centre in South Bank, Brisbane.
The talk focused on tuning into your soul's calling, the inner calling that is asking you to reach your full potential. She shared ways to 'tune into' the bigger picture, the fabric of life that is plain to see when you know where to look, the fabric of life that is asking you to connect with ancient myths and legends and to rise to be the hero in your own story.
Guest Medium - Nerang, Queensland
Patsy presented the platform mediumship at the Hinterland Church for Spiritual Growth in Nerang. The event took place on March 17th, 2019, at the Nerang Community Hall.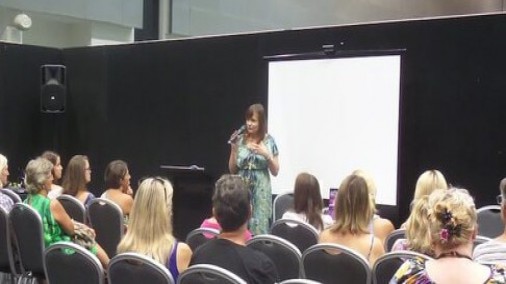 Health Harmony Soul Expo, Gold Coast, Queensland
Many thanks to everyone who came to the Health Harmony Soul Expo on the Gold Coast in January 2019 and joined me at my talk entitled: "Soul Awakening: The Path to Happiness. It's always a pleasure to meet you and I'll look forward to seeing you there next year. Patsy x" Where: Gold Coast Convention and Exhibition Centre, Broadbeach, Queensland.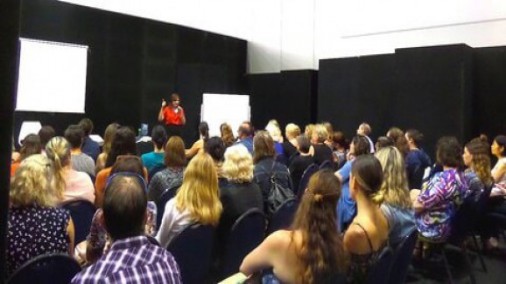 Feedback From Previous Courses:
"Patsy is wonderful. I really like the way she communicates, she is clear and inspiring." Sally, Byron Bay." We had a nice small group. Therefore the teacher-pupil ratio was good, Patsy answered all questions in detail and gave good examples. She is very approachable and is a very knowledgeable teacher. " Valentina, Byron Bay." I feel blessed I had the opportunity to do your workshops Patsy. I've been using the skills learnt. I look forward to seeing how they develop further. I highly recommend your workshops! With lots of love," Tracey, February 2017
Patsy Bennett Mentorships And Workshops
Patsy also runs mentorship programs and astrology workshops from her base in Byron Bay and other venues can be arranged. Contact Patsy for more details.